1) Merry CHRISTmas SSTN!

Hello SSTN Subscribers! Please pick up your Christmas card video from me to you at: http://www.sstn.org/merry-christmas.htm

Merry CHRISTmas,
Sarah Keith <><

Last minute Nativity Set...it's downloadable!
For kids at home and church!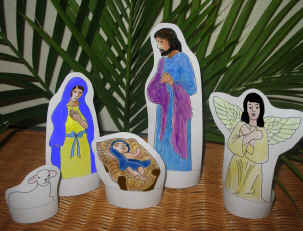 Color, cut and play!
Print multiple sets--one low price!
Click the picture!



2) My Credit Score

If my life was a credit report and I was trying to obtain salvation based on my score, I wouldn't get it.

My history shows that I've been delinquent in praise, past due in prayer, my worship has been in collections and I've missed a few payments (tithes) or only paid half (you know how we put $20 in the basket and feel like we've done God a favor).

Not to mention that my debt (sin) to income (blessings) ratio is too high.

BUT I thank God that I was able to file bankruptcy (repentance) and it cleared me of all of my debt (sin). Now I have a signer (Jesus) whose score is FLAWLESS... Not one blemish (sin) on his report.

So now...I QUALIFY for EVERYTHING! Most importantly I've inherited eternal life and I didn't have to put one penny down.

All of my closing costs were covered when Jesus laid down His life for me! I hear that my future home has all of the upgrades too. Hardwood floors? Please! I'll be walking on gold!

Thank You Lord for Your unmerited mercy, grace & favor!

"Praise be to the God and Father of our Lord Jesus Christ, who has blessed us in the heavenly realms with every spiritual blessing in Christ. For he chose us in him before the creation of the world to be holy and blameless in his sight... In him we have redemption through his blood, the forgiveness of sins, in accordance with the riches of God's grace that he lavished on us with all wisdom and understanding ... Having believed, you were marked in him with a seal, the promised Holy Spirit, who is a deposit guaranteeing our inheritance until the redemption of those who are God's possession--to the praise of his glory."
Ephesians 1:3-14




7) A Christmas Miracle

Hello all!

I received a miracle for Christmas. I have been battling head/neck/shoulder pain for a few months. On Tuesday I became so dizzy I could not stand, and when lying down if I looked left or moved I was sick. To the hospital I went. On Thursday they sent me to a bigger hospital for MRI. My left vertebral artery was blocked...a stroke. However, I lost no function! Just a horrible pain and dizziness that comes and goes a bit now. I am finally home today from the hospital. The doctor was amazed when she walked into my room after seeing my scan that I had no deficiencies. Only a Christmas miracle, answered prayer, explains this, and I am telling all who will listen. I am SO thankful to Him!

Please join us in praising God for this miracle, during the season of the miracle of Jesus' birth, which makes mine possible and so much more. God bless!

Tanya

--from SSTN: that IS wonderful news! Make sure you post your praise to the Prayer Board too (link at the bottom of this newsletter).




8) Meaning of a Merry Christmas?

What does having a Merry Christmas mean to you? Please share your thoughts and insights.





9) Thailand Mission Trip...come along!

Hi Teachers,

Follow me and my missions team as we go to Thailand: http://thai-team2009.blogspot.com

Dana ~
(Sarah Keith's daughter)



Prayer Board: "Enter his gates with thanksgiving, enter his courts with praise!"

Need prayer? You may submit your requests, but while you're there, pray for others too! We ask that you guard this area and monitor it for abuses that could arise. It is not a place for gossip or for marketing products. Please respect this area. It has been set apart for you! Follow this link to begin posting your prayer requests and praying for your brothers and sisters in Christ across the world: http://sstn.org/corkboard/index.html



Become a Support Partner today--help keep SSTN going!



One dollar a month helps provide Christian educational resources in the website and newsletter. To learn how you can partner with me, and have access to a few special projects in the site, visit the following webpage: http://www.SundaySchoolNetwork.com/ministry_support.html

Or, write your US check or US Money Order to:
S.A. Keith - Creative Imaginations (d.b.a.)

Mail to:
SundaySchoolNetwork.com
438 East Ilex Drive
Lake Park, FL 33403
USA

(In the memo section of your check write: "SSTN Subscription." Please include your email address.)

Your webservant,
Sarah Keith <><


SSTN Joining and Posting Guidelines: http://SundaySchoolNetwork.com/SSTN_guidelines.html


Copyright 1997 - 2008 / d.b.a. "S. A. Keith of Creative Imaginations
Reproducing in any medium, commercial or noncommercial, is strictly prohibited without prior written permission. SSTN has contributors from all over the world who share their ideas. If you reprint any of the ideas from SSTN, SundaySchoolNetwork.com or ChristianCrafters.Com in any medium (websites, magazines, newsletters, etc.), you must contact the submitter, and website for reprint permissions. Any materials used must also include the submitter's name and where the ideas were gleaned from. The opinions expressed or advertisements displayed in the SSTN e-Newsletter are not necessarily endorsed by SundaySchoolNetwork.com or any of its affiliates. SSTN reserves the right to edit and or exclude information from the SSTN e-Newsletter.

SundaySchoolNetwork.com | SSTN.org | ChristianCrafters.com | Bible-4-Life.com
ChristianTeachersNetwork.com | Sunday-School-Lessons.com | Bible-Lessons.net | FreeCraftsAndGames.com